We are 200 riders just like you, people who enjoy the friendship, camaraderie, and the heritage of Harley-Davidson®. While some of us have been in the Harley® family for many years, many of us are new to the Harley-Davidson® family. We are sure that you will enjoy many great rides and pleasure filled miles with our chapter. Riding Harley-Davidson® motorcycles is of course what we like to do most, and we do a lot of it. Between Wednesday evening Ice Cream rides, Friday rides, Saturday and Sunday poker runs, and out of state trips, we travel all over the region, state, and country.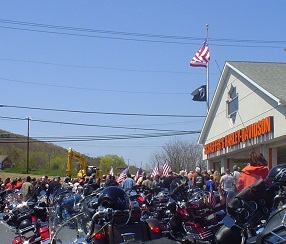 We also support the Muscular Dystrophy Association and the Eastern Harley-Davidson Dealers Association through our unparalleled fundraising for the annual MDA Ride-for-Life.
Our monthly Chapter meetings are held at 7:00 pm on the third Tuesday of each month at Schaeffer's Harley-Davidson. You are welcome to come a meeting to find out what makes our Chapter stand out in the crowd, talk with our members, meet the Chapter officers, and mingle with the great folks at Schaeffer's Harley-Davidson®.
When you come to a meeting you will see how fortunate we are to have Schaeffer's Harley-Davidson® as our sponsoring dealership. The Schaeffers have provided us with a beautiful and spacious meeting room that everyone calls "the HOG room." The Schaffer Family has put their heart and soul into supporting the Deer Lake H.O.G.® Chapter and we work closely with the Dealership to make sure that every event is well run and family-friendly. See more about what we do...
Joining Deer Lake H.O.G.® is as easy as...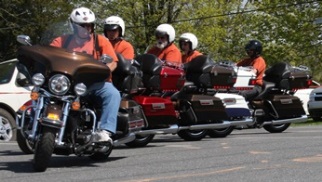 1) Owning a Harley-Davidson

®

or being a passenger or family member of someone that owns a Harley-Davidson

®


2) Being a member in good standing with the National Harley Owners Group

®


3) Filling out the paperwork to join Deer Lake H.O.G.

®


Download BOTH of these forms (right click and select Save target as):
Form #1 Member Information Form
Form #2 Chapter Release Form
4) Mail the paperwork or give the paperwork to the person at the Schaeffer's Harley-Davidson

®

reception desk